This online service allows people to request an open burning permit 24 hours a day, 7 days a week.
Service Information resources templates
Although permits can be requested 24 hours a day, the default setting for allowable burn times is after 5:00pm and before 9:00am for unorganized towns, plantations and most towns. The exception to the default "after 5pm" restriction is when there is a steady rain or the ground is completely covered in snow. Some communities, particularly those with full time fire departments, have elected to override the allowable burn times and have authorized burning during the daytime. Please read your permit carefully and only burn during the times listed.
Online Burn Permits are valid on Class 1 or Class 2 days. The person requesting the permit must verify the class day after 9:00AM on the day they intend to burn.
This system is for brush piles, wood debris and agricultural burns only. Permits are only valid for 24 hours from the time they are requested and can't be requested in advance. For campfire permits, please contact the local fire dept. or the MFS Regional Headquarters (M - F between 8am and 4pm). Augusta 207-624-3700, Old Town 207-827-1800, Ashland 207-435-7963.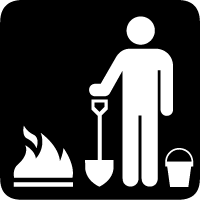 What you will need
Burn Information including address and type of material being burned
Printer to print your permit
Get Help
Questions about this service? Contact the Maine Forest Service at: (800) 750-9777 or email Maine.ForestRangers@maine.gov
Town Warden Sign In
Town wardens sign in to access your account. *Required fields.
Service Information